A Secure Bitcoin Wallet At Your Fingertips
With iDeyPay bitcoin wallet, it's easy to buy, sell and store your bitcoins safely whenever and everywhere you want. Make use of your Naira efficiently today and secure your currency in Bitcoin.
Bitcoin is a digital currency already used all over the world. Unlike other currencies like Dollar and Euro.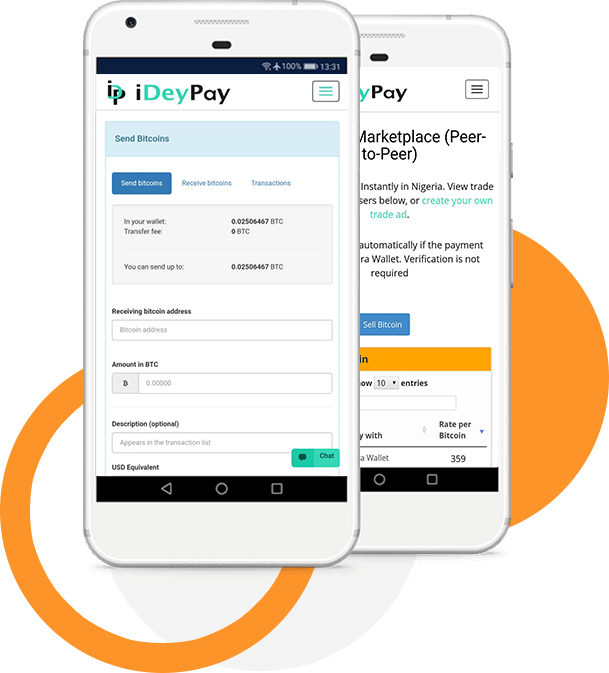 Why choose iDeyPay Bitcoin Wallet?
As one of the most trusted bitcoin wallets in Nigeria, you can buy bitcoin and store it in the same place with the highest level encryption. With us, you'll never have to choose between security and convenience. The iDeyPay Wallet is the bitcoin wallet solution that will keep your funds secure without compromise to your privacy.
The iDeyPay Bitcoin Wallet has been carefully designed to be functional, safe, and easy to navigate on all of your devices. Our universal blockchain wallet allows you to easily manage your bitcoin balance and top up directly via the iDeyPay Marketplace(Peer to Peer) or buying directly from us. With just a few clicks, you can deposit and withdraw, receive and send, or buy and sell bitcoin in Nigeria.
We give you full control over your funds, and protect them from unauthorized access using two-factor authentication. We are constantly implementing additional and improved security features to eliminate any chance of unauthorized access to your wallet.
iDeyPay Wallet gives you access to the marketplace, where you can buy and sell bitcoin with other iDeyPay users. Take advantage of the free instant transfers to other iDeyPay users and buy bitcoin with credit/debit card or bank transfers.
Enjoy full access to blockchain with an online bitcoin wallet that stores your private keys securely in the cloud, if your hard drive or phone gets lost you'll still have access to your wallet.
It's never too late to get started. Buy, store and learn about Bitcoin now
iDeyPay is a place for everyone who wants to simply buy and sell Bitcoins. Deposit funds using your Visa/MasterCard or bank transfer. Instant buy/sell of Bitcoins at fair price is guaranteed. Nothing extra.
Bitcoin wallet features
The peer-to-peer nature of the iDeyPay Marketplace means you can safely and privately buy bitcoin from a trusted vendor and not a bank.
Speed is key when you want to transfer bitcoin. You can expect to send or receive bitcoin within minutes. Bitcoin confirmations are faster with iDeyPay.
After receiving bitcoins, you can do whatever you like with it. You have option to hold them in your iDeyPay wallet, sell bitcoins for the Nigerian Naira. You can also send your bitcoins to any other bitcoin wallet.
Our friendly customer service representatives are committed to answering all your questions and meeting any need you may have. We would love to hear from you!
Make your money work for you.